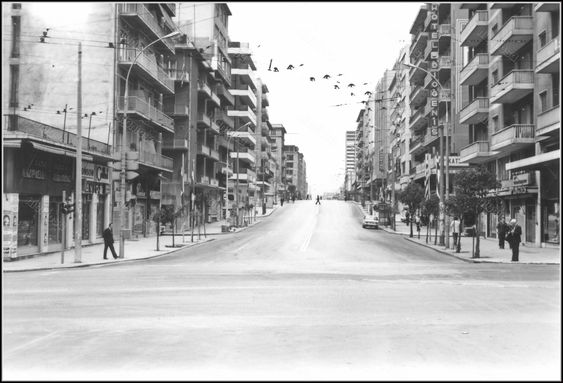 Our history
Our History
Established in 1965, our family business has since been active as an innovative Floral Studio, creating floral decorations for a vast range of events.
Our floral decoration services, combined with our expertise on the field, keeps upgrading and updating day by day, while making sure to keep everything available all over Greece!
Ranging from private moments and symbolic ceremonies all the way to grand events, your vision keeps fueling our artistic spirit. Our beloved team of professionals will bring life to your personal floral decoration aesthetic.
1965
The seed is planted
Back in 1965, at Agios Konstantinos Church in Piraeus, when it all begun, Elias N. Moustakis felt the emerging need to express his love for flowers by combining them with the family's commercial tradition. In a neighborhood full of flower shops, following the friendly and cooperative team spirit of the local trading of the time, the family's first flower shop was born.
1967
Family matter
Just 2 years later, Nikos E. Moustakis comes forward with great intensions to spread his own wings. Representing the next generation of the family business, with love and sensitivity, he opens up a new store in Leoforos Vasileios Georgiou A'25, Piraeus. At the same time, new goals are being set for the business, including a fresh approach on its aesthetics and vision, which will lead to an innovative era of floristry and decoration, deviating from the established principles of the time.
1997
A new era with a woman's touch
10 years have passed, and a more feminine approach is coming along confidently, in the shape of the youngest daughter of Nikos E. Moustakis. A restless young woman wanting to unfold her inner finesse, express her passion for decoration, her love for flowers and need for communicating with the world, claims vividly her spot in the flower industry.  It's the 21st of November, the day of her name day's celebration, when she received the long-awaited YES on her request to join the team. That marks the beginning of a shared journey for the father and the daughter, Nikos and Maria, who were ready to face any difficulties that may occur on their way.
2000
The family business is blossoming
Fast forward 3 years later, the 3rd generation of the family business is steadily emerging. The youngest son of Nikos E. Moustakis, alongside his devoted father and sister, begins to pave his personal path in the family business. As a very discreet person, he pays attention on the day to day activities of the two, and thus immerses himself in the world of flowers and care. Elias identifies with his father to a great extent and, at the same time, begins to explore his own potential and experiments in the world of flowers. A common vision and the energy for creation are the driving forces for their next steps.
2004
Unleashing potential
It's a milestone year for the family business, as all members individually and collectively unleash their creativity completely. A carefully detailed renovation on their business space along with some aesthetically fresh touches, sets a promising outlook for the future of the business. In 2004, the family business feels ready to raise the bar of decoration and floristry to new levels, showcasing their established skills and artistry to the world, especially to every customer who shares the same vision.
2008
Our father's legacy
Life is unpredictable, sometimes in good ways and others with bitter notes. One of the toughest moments for the family business was the year 2008, when the two siblings, Maria & Elias, had to face the sudden turn of events and continue their creative journey by themselves. It was their time to officially represent the 3rd business generation, creative stress included, aiming to become worthy successors of the family business.
2013
Make it happen
Nikos E. Moustakis had always kept in mind his return to the family roots, a dream that came true when Maria & Elias brought the family business to Naxos, by opening a  flower shop branch for the first time on an island. Their beloved homeland becomes the place where they create the first shop of flowers and special services, both in terms of floristry and decoration, taking the concept of a floristry retail businesses on the island to another dimension.
2015
Counting 50 years of creation
A whole 50 years-half a decade, a time where the challenges, difficulties but also creative moments were to spare. We couldn't be more proud to celebrate 50 years since the beginning of our family business, especially when it occurs with us being in charge. We are honored to represent the family legacy both in the commercial and decorative field, while participating in the making of history.
2017
Celebrating our new identity
Half a decade couldn't have pass by light-heartedly. That's why we decided to celebrate by sharing our rebranding with you! Based on our newest aesthetics, the values that define us, the weight of our brand and its history, we came up with a result that exceeds all expectations, and we were happy to see that you loved it too!
2019
Branching out
Our family business has been repeatedly described as "restless", a well-deserved concept that we happily came to embody! Our newest project, OHAYO TEA HOUSE, is born from the vision of Nikos E. Moustakis way back in 1990. The idea was to let the outside world enter his personal reality, in the form a truly blessed place where flowers and plants play the leading part, and everyone inside it can exist and work in an environment filled with flowers, colors and fragrances. He wanted to offer the gift of enjoying a drink in a garden, a flower garden to be specific, to others, sharing the experience he already had and cherished. Ohayo was the answer to his visions, a dream that coincided with the sudden pause of the reality that we knew, but managed to co-exist with the very new Floral Studio of our family business, housed in a new neighborhood, along with our privately owned premises in Dafni, in the central district of Athens.
2022
Another spot on the map
Cycladic islands loved us, embraced us, and inspired us to add another spot on our business map. That's way we decided to open our second family-business branch in Ios, yet another beautiful Aegean Island. We created a workshop with professional facilities inside, ready to support events of every magnitude, staffed with our team members who are always ready to welcome you and do what they know best.
2023
What's next?
We feel blessed to still be creating, be inspired and full of energy for new and totally desirable challenges…
We are here, filled with ideas and fresh visions, and all this is due to the people who believed in us and our aesthetic, who supported us and continue to do so… We look forward to what's next… What about you?
"Choose a job you love, and you will never have to work a day in your life."
Maria Moustakis
Floral & Event designer – Interior decorator
My name is Maria, but most people call me by my last name – Moustakis. Days seem incredibly / extraordinarily short compared to my never-ending energy. I love communicating with people – quick and witty conversations are my favorite. I am constantly raising the bar as high as possible, aiming to surpass myself, always looking for challenging new projects. As my favorite Confucius quote says "Choose a job you love and you'll never have to work a day in your life" – I feel blessed too!
Born and raised in a world full of flowers, as a member of our family business – Moustakis Flower Company, I took interest in beautiful colors and pleasant fragrances. My love for decorating inspired me to study the principles of design and architecture at The Vakalo College, which contributed not only to the enrichment of my knowledge, but also to the creation of solid foundations to which I rely on, to this day.
You will find me getting lost in design and architecture books and anything else decor related, as I get inspired by everything around me. My favorite colors are grey, black, white and of course blue. I love spending time with my animals and I feel lucky to be the mother of Athos – a lovable black Labrador. Of course, as a summer girl, I love to surf, go barefoot (that's me!) and watch "The Big Blue" over and over again. I will never stop dreaming and believing in true love!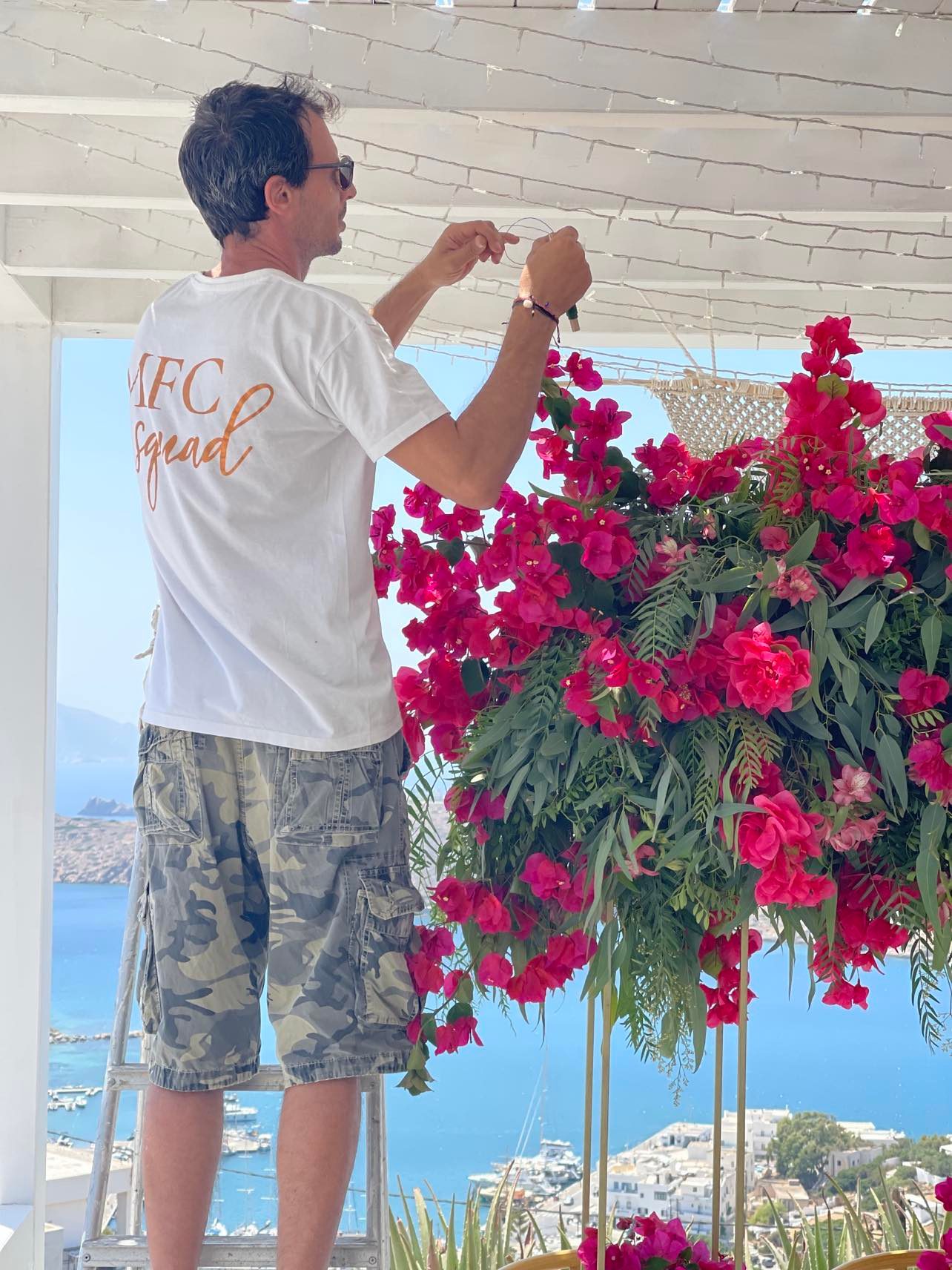 "We need emotional content"
Ilias Moustakis
Floral designer - Event producer
Our family business – Moustakis Flower Company, feels like home to me and I am happy to be keeping my father's legacy alive. Having mastered the experience and technique passed down from father to son, my biggest goal is to constantly develop my art in the field of floristry and craft. This way I can express myself as much as possible and, to me, that is the biggest challenge!